8/5/2020
Dear Spartan Families,
It is that time of year to welcome you back to another school year at Timberline Schools! I am excited for this upcoming year and am looking forward to forging strong relationships with you as we work together to make your child's school year great in spite of the pandemic we are living in. We have worked hard to prepare a back to school plan that will allow us to return to school in a safe manner. Thank you to all of you who provided input in the planning process.
JSD 171 and Timberline schools reopening plan will be shared with you following through skyward email and social media. In an effort to help you prepare for the upcoming school year, I have included some key points in the plan below.
When we are in the green phase of operation as defined by the local health department, we will offer face to face instruction on campus. In order to do this safely, we have implemented additional procedures. Students and staff will be required to wear masks or face shields during the school day. Parents must provide masks or face shields for students to utilize while on busses and at school. Students will be allowed to remove masks outside with adequate social distancing and when eating. Our campus will be cleaned and disinfected regularly to minimize the possibility of germs on surfaces. We will utilize social distancing to the extent possible to minimize the spread of germs. Staff and students will be trained on effective hygiene practices, social distancing, and safe school practices. Campus will be primarily closed to guests. Any visitors must also meet the PPE requirements of mask or face shield. Doors will remain locked and an intercom system will be utilized to communicate with the main office. Please do not send your students to school with any sickness related symptoms. If students show symptoms of sickness we will be required to send them home. We are hopeful to remain in the green phase and will work hard to minimize the possible spread of germs.
Most school business including registration will be conducted online, via zoom, or by phone. Please update your contact information and provide us with a working email address. Mrs. Cook has sent emails to secondary students regarding registration. We will continue to provide updates as we learn new information through email, skyward, and social media. Please contact the school to update your information and or ask questions.
If we have an outbreak of Covid in our building the Health Department will direct us on closure procedures. We may have to move into the yellow category where some or all students remain home due to exposure. We hope to minimize the number of students quarantined during an exposure through effective practices while working in the green phase. If some or all students are required to quarantine, we will continue to provide instruction and students will be accountable for work assigned.
It is possible for the entire campus to close in the event of a major outbreak as determined by the health department. In the event of this situation, we will continue to provide distance education and students will be accountable for work assigned.
We have added new staff members to our team at Timberline. I would like to introduce Mrs. Jessica Sharr as our new attendance secretary. She will be replacing Jessica Fugate who took a position in the district office. I would also like to introduce Mrs. Roxann Hubbs as a new para-professional in our special education department. I'm confident our new staff will be great additions to our school staff. I'm excited to have no teacher turn over this year and am optimistic this will be a great year for Timberline families.
Our building has undergone some significant maintenance efforts this summer in addition to the regular upkeep, cleaning, and painting. We have a new mural on the exterior of the weight room thanks to Mrs. Daniels, Mr. Leachman, and Diane Gerot. The exterior of the shop and locker room walls were repainted due to significant water damage. We are also refinishing some interior doors. We are proud of our maintenance staff and the work they do to improve Timberline facilities.
Please stay connected with us through our Facebook page, Instagram, website, and on skyward (student grades, attendance, etc.). From time to time, we publish photos of students and staff engaged in fun and unique activities on our Facebook, Instagram, and website. Please notify the office if you would like to have your child's photo excluded from any publications.
https://www.facebook.com/Timberline-Schools-532853837185756/
Jason E. Hunter
Principal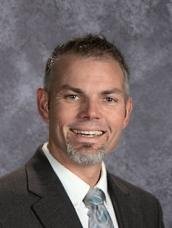 Mr. Jason Hunter
Principal / Timberline Schools
Phone: 208-435-4411